9" Flat Vacuum Cups with Metal Handles, capacity 150 lbs each(one pair included)
---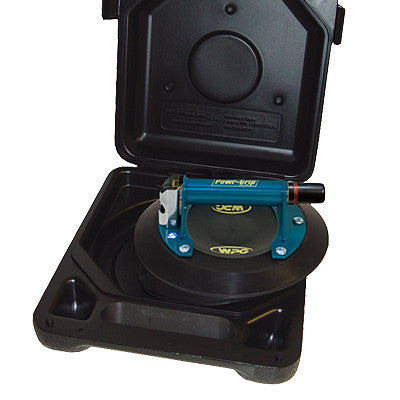 "Must have in any glovebox!" 
You name it, vacuum grips can help. Attach all types of items for temporary use. Reduces the need to bolt items to the glovebox permanently. Place a vice in a spot temporarily and then move it out of the way when you are done using it. Hang shelving, magnetic bars for tools, magnifiers, lights, in and out of the glovebox.  Excellent for window changes.
Features:
Durable metal handle
Economical plunger made of rustproof ABS
Fast attachment on smooth, nonporous surfaces
Flexible vacuum pad edge for materials that may bend or flex when lifted
Red-line indicator warns user of any significant vacuum loss
Check valve allows repumping without loss of remaining vacuum
Release valve lever permits quick and complete release
Supplied with protective carrying case.
Specifications:
Vacuum Pad: Flat, 9" [23 cm] diameter (model G0725)
Load Capacity: 150 lbs [68 kg] per vacuum cup
Related Products
---