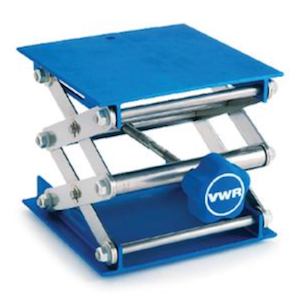 "

Must have in the lab." 
Aluminum
lab jacks provide stable height adjustment for various items in the labs such as flasks, baths, and small equipment.
Exceptional stability and durability
Aluminum construction
Four convenient sizes
Oversized, sure-grip adjustment knobs provide smooth and accurate height adjustment
Top and bottom decks are constructed of anodized aluminum. Internal supports and drive screw are constructed of stainless steel. Lab jacks are designed to hold the specified weight after it is lifted to the preferred height.
*Price does not include shipping.