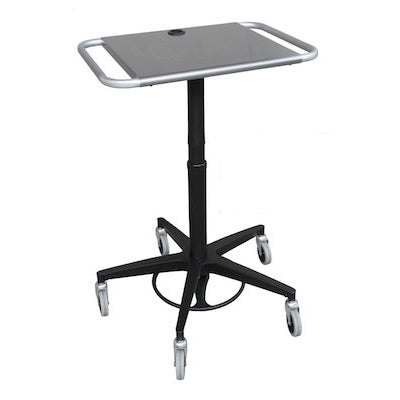 "Perfect for your laptop..."
Adjustable Laptop Transport Stand is constructed of a stainless steel tray secured to a heavy gauge plated steel column. The unit's easy grab aluminum handles, sturdy 5 leg base and 3 inch casters allows for easy transport. The stand can be used sitting or standing by operating a foot pedal on the base to adjust the vertical height of the work surface from 30 to 40 inches. A gas spring lift mechanism within the unit provides the smooth vertical lift. Stands measure 30 inches high by 21 1/2 inches wide and 14 ½ inches deep. Its base has a diameter of 22 inches.
Features:
• Durable steel construction
• Easy grab handles
• Adjustable work surface height for sitting or standing
• Sturdy 5 leg base on 3 inch casters
• Measures 30 to 40"H by 21 1/2"W by 14 ½"D
*Because of varying weights and distances, price does not include shipping.
Related Products
---